Antonio Pita Lozano. LUCA, Telefonica Data Unit, Spain.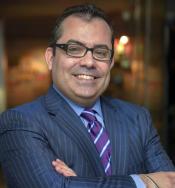 Global Head of Consulting & Analytics en LUCA, Telefonica Data Unit
Antonio Pita holds a degree in Mathematics and a Diploma of Advanced Studies (DEA) in Algebra from the University of Murcia. He also holds a MSc in Business Management and a Masters in Visual Analytics and Big Data. He has held various management positions in Cajamar and Liberbank and the consultancy firms Everis and Synergic Partners, in which he has carried out projects for large companies such as BBVA, Repsol, Naturgy, Mapfre, Vodafone.
He is currently Global Chair of Consulting & Analytics in Luca, the data unit of Telefonica. He also amounts over 20 years of teaching experience in several business schools and universities, such as IE (Instituto de Empresa), EOI, UOC, UNIR, USAL, UAH.
Best Spanish Data Scientist in the Data Science Awards 2016 (Sigefilm project).
Talk:
"Data and mathematics. The promoters of the data driven companies"
Abstract of the talk:
It is a hardly questionable fact that data is an invaluable, strategic asset for companies carrying out their own digital transformation processes. The current challenge is the extraction of all of data's value. With this goal in mind, statistical and AI mathematical models are being used with the aims of increasing companies' income, reducing costs through efficiency models and mitigating risks targeted at improving business management.